Welcome
Registration by invitation. Write to invitations at this website.
RoadSkater.Net skating & cycling photos!
Grand Teton National Park Path Allows Inline Skating, Seeks Trail Volunteer Ambassadors: Inline Skaters Here's Your Chance!
This is just a brief note to point out another place on Department of Interior land where inline skating is specifically encouraged, unlike out beautiful Guilford Courthouse National Military Park.
But what a beautiful place to travel to for inline skating! Click the photo for another article on this subject...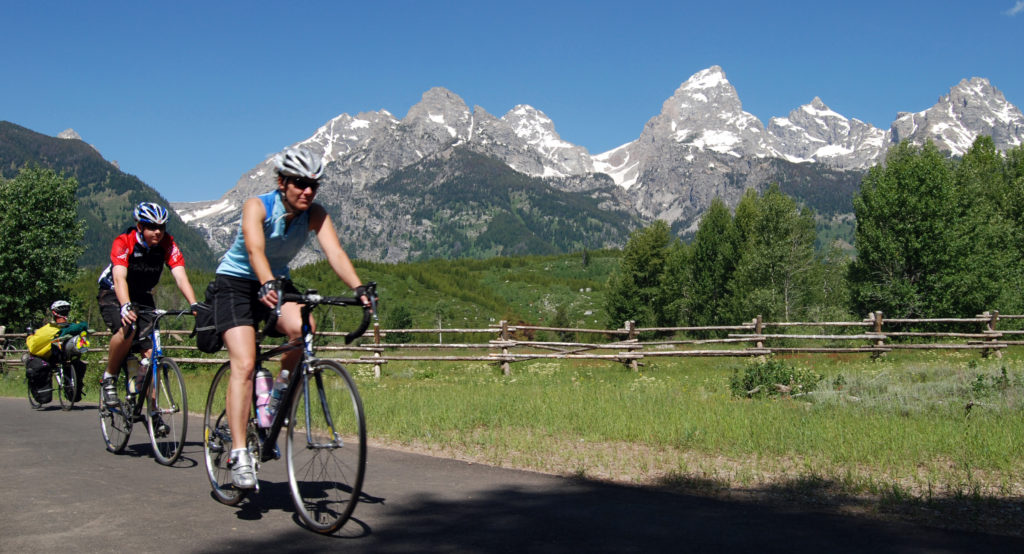 For now, it sounds good to go get 8 miles of Grand Teton pleasure...16 if you go both ways. If I understood http://www.nps.gov/grte/parknews/multi-use-pathway-to-open-in-early-summer.htm, there will soon be another 12.5 miles added, making it a 41-mile round trip, say, from the Lake Jenny Campground to Jackson and back. What a nice day that would make.
People do travel to places to spend money while skating and cycling and running and walking, you know. This sounds great. Thank you Grand Teton National Park, National Park Service, and Department of the Interior.
Here's a view from the bridge near the start of the trail...
http://maps.google.com/maps?hl=en&bav=on.2,or.r_gc.r_pw.r_qf.,cf.osb&biw=1241&bih=584&um=1&ie=UTF-8&q=grand+teton+national+park+8+mile+trail&fb=1&gl=us&hq=grand+teton+national+park+8+mile+trail&cid=0,0,11934741935988777783&ei=b9OpT6zQM4i68AS3wuylAw&sa=X&oi=local_result&ct=image&resnum=4&ved=0CBMQ_BIwAw
Our local spot of history has always discouraged or threatened us when we simply tried to use the rail trail greenway that passes through the park, or especially the parking lot through which the greenway passes just to put on our skates. We've even been threatened with Federal tickets when we were part of a training ride with dozens of cyclists getting ready for the Tour to Tanglewood for MS. We'll hope this will change for our park someday so we can skateylove our way gently through there rather than end up dumped into the roadway of Old Battleground Rd, where drivers can't understand why we don't use the path! :o)
And special thanks to Greensboro's Country Park, where we are always welcome and very often encouraged by the staff and the regular walkers, runners and cyclists there. Thank you for giving me a place to improve my life!
Grand Teton National Park Looking For Volunteers To Help Patrol Pathway - National Parks Traveler -